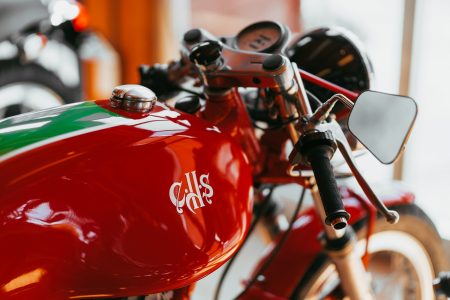 Do you have a motorcycle to restore? A motorcycle restoration project is great for those who want to build the bike of their dreams on a budget. All you need to be your own motorcycle mechanic is time, knowledge, good quality products, and, of course, an older bike! Most classic motorcycles and vintage bikes are at least 15 or more years old, which can put a lot of wear and tear on a bike, especially if it wasn't maintained. Here are five tips for restoring your motorcycle from the folks at PJ1 Powersports!  
When you're ready to start restoring your bike, browse PJ1 Products. You can purchase rust remover, air filter oil, chain lube, and anything else you need to restore a vintage motorcycle to a like-new condition!  
5 of the Best Tips for Restoring Your Motorcycle
1. Rebuild & Break-in the Engine
Most motorcycle engines can last more than 100,000 miles if they're maintained. Unfortunately, not everyone is diligent about maintaining their bike. If you're restoring a motorcycle, you likely don't know how it was taken care of before you got it. Some motorcycle restoration projects require an engine rebuild. Visit our friends over at Engine Builder Mag for more tips on rebuilding an engine.  
After your engine rebuild, you will need to perform an engine break-in. During this process, the piston rings are set, the oil pump starts working, and the camshafts break–in. A good quality lubricant is essential to ensure a successful break-in. We recommend PJ1 Engine Assembly Lube to protect your investment and give you confidence on your first start! 
2. Replace & Lube the Motorcycle Chain
If your bike has been sitting for a long time, you probably need to replace the motorcycle chain. These chains can become rusted and worn without proper maintenance. Once you replace the old chain, it's a good idea to coat the new one in motorcycle chain lube. This product helps prevent rust, keeping your bike chain in good condition for longer. We recommend PJ1 Blue Label Chain Lube for the job!  
3. Replace or Clean the
Air
 Filter
Just like in your home and car, it's important to change your air filter. However, it's possible to clean your motorcycle air filter, which can save you money on your motorcycle restoration project. There are three types of air filtration systems in motorcycles including paper, foam, and fabric. You can't clean paper filters, but you can clean and reuse foam and fabric filters. Here's how to clean your motorcycle air filter! 
4. Clean the Brake Parts
Brakes are the best safety feature on any vehicle or motorcycle. That's why it's of the utmost importance to ensure the braking system on your bike is in good condition and clean the brake parts. The solvents and additives in brake parts cleaner are designed to dissolve brake fluid, grease, oil, and dust leftover from brake shoe and pad wear. If you've got brake parts to clean, grab PJ1 Pro Brake Cleaner to get the job done right! 
5. Make Cosmetic Updates
If your bike has been sitting out for a while, it probably looks worn down. Plus, customizing a bike to your style is one of the most exciting parts of restoring your motorcycle! For DIY custom motorcycle paint projects, it's important to get the paint right, focus on your prep work, and get a clean environment to work in. Before you begin, browse our PJ1 Coating Options and PJ1 Primer!  
Keep Your Motorcycle in 
Pristine
 Condition with PJ1 Products
Now that you know the integral steps of restoring your motorcycle, it's time to get to work! Be sure to browse our diverse inventory of PJ1 Products to help complete your project. Be sure to read our blog, too, which is a great resource for information on all things motorcycles!