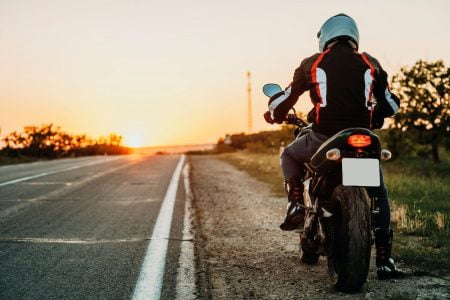 Picture this: You just left the dealership on your brand new motorcycle. You can't wait to hit the open road, but first, you must find the best motorcycle insurance for your bike. The type of motorcycle insurance you should buy depends on a few factors, including the type of motorcycle you have, how often you plan to ride, and the insurance requirements in your state. Below, we've outlined the most critical information to consider when choosing your motorcycle insurance plan! 
After you've chosen a plan and your bike is street-ready, get any other essentials you may need for your motorcycle through PJ1 Powersports. We offer a wide variety of Powersports products that you can buy from the comfort of your home!  
How to Find the Best Motorcycle Insurance for Your Bike
Motorcycle insurance is a must for all riders. In fact, it's one of the most important things for first-time motorcycle buyers to look into!  
1. Types of Coverage
Just like auto insurance, there are several coverage options for your motorcycle. Motorcycle insurance can cover you, your passengers, other cars/motorcycles on the road, and even custom parts depending on which plan you choose. Each state has different minimum coverage amounts for bodily injury and property damage. You can also add additional coverages like roadside assistance. You can also complete a motorcycle safety course, which may lower your insurance rate in some states. 
Be sure to research what your state's motorcycle insurance requirements are before purchasing coverage! 
2. Type of Motorcycle
Like car insurance, the make, model, and year of your motorcycle all impacts how much your insurance costs. According to Value Penguin, insurance companies consider your motorcycle value, bike safety features, crash rates, and theft rates. Sport bikes, also known as street bikes, are usually the most expensive to insure because they're like to meet most, if not all, of these requirements.  
Basically, if you purchase a sparkling new bike with all the bells and whistles, you can expect to pay more than someone who buys a used bike online. Before you buy an expensive bike, make sure you have the financial strength to insure it appropriately. 
3. How Often You Ride
While it's necessary to insure your bike, not all motorcycles require the same level of coverage. If you're the type of rider who only rides on the most beautiful fall and spring days, then you can probably get away with purchasing your state's minimum coverage amount. However, if you ride more frequently, it's wise to get enhanced coverage to protect you, your passengers, and others on the road. 
Get Your Bike Ready to Ride with PJ1 Powersports 
Now that you know what to consider when choosing the best motorcycle insurance, it's time to find the best Powersports vendor. Look no further than PJ1 Powersports! We offer a diverse selection of specialty, high-performance Powersports products to care for and maintain your passion! Our online store has some of the best high-performance Powersports products in air filtration, cleaners and degreasers, coatings, lubricants, oils, and performance and maintenance products.