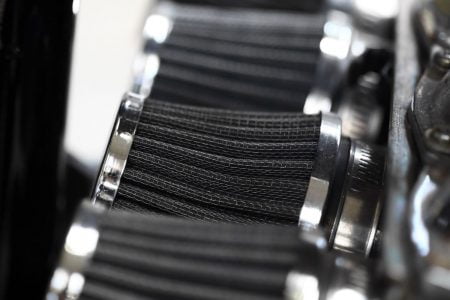 Are you thinking about replacing your factory airbox with a motorcycle pod filter? You may be wondering if making the switch is worth it. In our expert opinion, motorcycle pod filters are a good investment if they're properly cared for. Continue reading for more information on how pod filters work, care instructions, and more!  
Shop the best in air filtration with PJ1 Powersports. We offer an exclusive inventory of Air Filtration products like care kits, oils, cleaners, and more!  
3 Things to Know About Motorcycle Pod Filters
1. Do Motorcycle Pod Filters Maximize Flow?
Motorcycle pod filters, a common replacement for a factory airbox, are an aftermarket product designed to maximize airflow to your engine. They're able to do this a couple of ways. First, let's draw a comparison between the functionality of pod filters and breathing through a straw.  
Imagine you're breathing through a straw. Pretty easy, right? Now, imagine you stuff a napkin inside of the straw, then try to breathe through it. Most people would struggle to get air through the straw and into their mouths. This is what it's like for your intake air through a factory airbox with a paper filter in it.  
Motorcycle pod filters maximize flow by removing the factory airbox (the straw in our exercise) and replacing the paper filter (the napkin) with a filter that intakes air more easily, like an oiled filter. 
2. Do Motorcycle Pod Filters Increase Performance?
Pod filters are a great addition to your motorcycle or dirt bike but don't expect double the horsepower from this new filter. Inefficient air filters and intake systems certainly rob your engine of power, but a performance filter usually gets you a 5% power increase at most. If you ride on the street, you may see a slight bump in gas mileage as well! However, if you're a serious racer trying to shave that last 100th of a second off your lap, that little bit of extra power may just be the boost you need! 
3. How to Care for Your Motorcycle Pod Filter
If you elect to replace your factory airbox with an oiled motorcycle pod filter, be sure to grab the PJ1 Foam Filter Care Kit. Because an airbox doesn't protect pod filters, they pick all kinds of dust, debris, and dirt from the road. This doesn't pose a problem if you use our care kit to keep the filter in good shape! 
More on Motorcycle Air Filters
Are you interested in learning more about maintaining your bike's air filtration system? Here are some more expert tips from our blog: