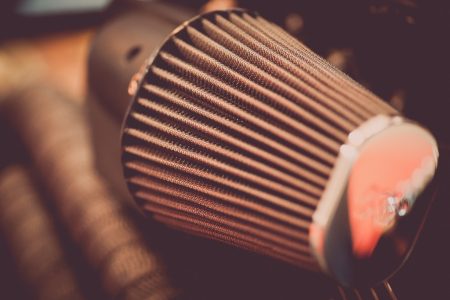 Routine maintenance is key to your vehicles' longevity. Simple measures like changing the oil and replacing or cleaning your air filter can help your vehicle last for many years to come. Not sure if you need to clean or replace the filter? We're here to help. Read on to learn about what air filters do, when to clean your air filter, what cleaning solution to use, and more! Anyone can be a mechanic with these helpful tips and tricks.  
PJ1 Powersports has a product for nearly any automotive need. Choose from a variety of Air Filtration Products to clean an air filter! 
5 Things to Know
 About
When to Clean Your Air Filter
1. What Do Air Filters Do
?
Air filters are designed to keep dirt and debris as well as other pollutants out of the main operational components. Luckily, air filters are also the easiest to change in your own garage!  
The purpose of air filters is to remove any loose dirt and other particles before they reach the engine. It's essential to have clean air and fuel flowing to the engine for optimum performance. A clean air filter can even help improve gas mileage! Air filters are pleated in appearance and comprised of soft, porous materials like fabric, paper, or foam. 
2. Should I Clean or Replace My Air Filter?
If you've never tackled an air filter project before, you're probably wondering, "Can you clean an air filter, or is it better to replace it?" Most of the time, cleaning and reusing your air filter is a great way to save money and get maximum performance for your vehicle. You can clean fabric and foam filters, while paper filters are nearly impossible to clean as they're most suspectable to tearing. If you have a paper air filter, it's best to replace it instead of trying to clean it.  
3. How Often Does My Air Filter Need to Be Cleaned?
Every vehicle is different, but a good rule-of-thumb is to clean your air filter every 10,000 miles or less. If you suspect it's time to wash the filter, you can perform a visual inspection to confirm. Simply remove the filter and look for excess dirt and debris. Generally, it's better to clean an air filter as part of routine maintenance instead of waiting until it's disgusting.  
Telltale signs you need to clean your filter are: 
Difficulty seeing the pleats due to buildup of dirt and 

debris

 

 

Parts of the air filter are falling off

 

Deformities

 and/or cracks on the rubber seal

 
4. How to Clean
an
 Air Filter
Now that you know what an air filter does and how often to clean them, it's time to learn about how to perform a filter cleaning. There are some dos and don'ts of using air filter cleaner. Here are a few big mistakes people make when cleaning their air filter: 
Scrubbing the filter. 

Instead, use a good 

air filter cleaning solution

 that will dissolve both the old filter oil and any dirt and grime caught in it, eliminating the need for scrubbing.

 

Not cleaning the filter media well 

enough. 

Instead

, use a good air filter cleaning solution that won't

 leave residue behind on your filter. 

 

Not letting the filter completely dry.

 Instead, let the 

PJ1 Air Filter Cleaner sit for 15 minutes. Then, you should thoroughly rinse your air filter and let it completely dry.

 
5. Shop PJ1 Powersports' Products
Now that you know how and when to clean your air filter, it's time to get to work. Browse PJ1 Powersports' Air Filtration Products to get started!