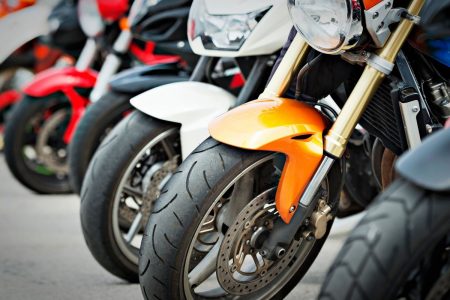 Have you always dreamed of owning a motorcycle? Motorbikes can be a fun addition to your garage, but there are some things you should know before you buy. Follow our first-time motorcycle buyer's guide for information and tips on purchasing a bike. Our guide contains helpful information on the different motorcycle types, insurance, what to look for on the lot, finding the right helmet, and the best Powersports products. Ready to begin your journey to buying a motorcycle?  
When you're ready to begin your buyer's journey, you'll want to make sure you have the right products stocked in your garage. Shop PJ1 Products for high-performance products delivered directly to your door! 
PJ1 Powersport's First-Time Motorcycle Buyer's Guide
1. Choose a Motorcycle Type
The first thing to consider when purchasing a bike is which type fits your experience level and riding needs. Here are some of the most popular motorcycle types to consider: 
Standard
The standard motorcycle is a perfect choice for novice riders. This type of motorcycle has neutral ergonomics and is easy for most people to ride. It's also a good option for those who want a bike with simple, straightforward technology.  
Cruiser
Cruisers are a bit larger than a standard-size bike, but it's designed for long treks. A cruiser is ideal for a rider who plans to use the bike for long-distance travel, such as a coast-to-coast ride! Features that make this possible include storage, fairings that fight the elements, and a larger engine to help you maintain highway speeds. They're typically more comfortable than other models, too!  
Sport Bike
Adrenaline junkies will love a sportbike! This type of bike is lighter than other models, which makes the rider more agile. Sportbikes are best suited for riders with a bit of experience, as the forward-leaning ergonomics can be startling for a beginner! 
Off-Road
Off-road motorcycles are meant for kicking up dust! These bikes are a bit taller and can sustain more bumps than traditional street bikes. This type of bike is a great choice for someone who wants a true recreational bike!  
2. Research Motorcycle Insurance
Although motorcycles are usually meant for recreational use, it's important to protect yourself and your bike with motorcycle insurance. Motorcycle insurance is mandatory in 49 U.S. states, however, the amount of coverage you're required to have varies by state. Luckily, finding a motorcycle insurance plan that meets your needs is easy!  
Many major insurance companies offer motorcycle insurance plans. Simply check with your auto insurance provider to inquire about adding motorcycle coverage to your plan! 
3. Go for a Test Ride
You wouldn't purchase a car without driving it first, and the same goes for a motorcycle! Whether you're buying new or used, there are a few musts before you commit to a bike. A test ride is the No. 1 thing to do before purchasing a bike. It's can also be helpful to bring a friend or family member along with you to inspect the bike.  
4. Invest in a High-Quality Helmet
We can't overstate how important motorcycle safety is. The best thing you can do to keep yourself safe while you ride is to wear a helmet. As with anything, some motorcycle helmets are higher quality than others, so be sure to do your research before buying one. Make an informed decision on which helmet to buy with this resource for choosing the best motorcycle helmet! 
5. Stock Your Garage With PJ1 Products
Now that you have your bike home, it's time to make sure you have all the necessary products to care for it. That's where we come in! PJ1 Powersports offers an extensive catalog of products to make your motorcycle run smoothly. From regular service items to DIY projects, you can find the right product for any job at our online store. 
Browse a full catalog of our high-performance Powersports products. Your bike will thank you!