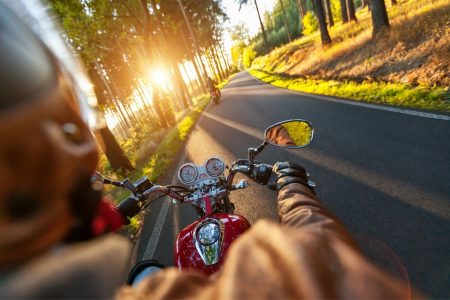 Although motorcycles are normally a secondary form of transportation, it's just as important to maintain your bike as it is your primary vehicle. Whether you use your bike daily or only on special occasions, there are several things you can do to make a motorcycle run smoothly. Best of all, you can complete these maintenance items from your home garage, which can save you a lot of time and money at a motorcycle repair shop. Read on for five tips and products for smoother riding. Then, shop all the products in this blog at PJ1's Online Store! 
5 Tips to Make a Motorcycle Run Smoothly
1. Change the Oil
Regularly changing the oil in your motorcycle is a must. The right amount of clean oil ensures that your bike will run smoothly for miles to come. The frequency that you need to change your oil depends on the oil you use, how often you ride the bike, and what the manufacturer recommends. PJ1 Silverfire 4T Motorcycle Oil is a great choice for most bikes! 
Here's a helpful article on tips for changing the oil in your motorcycle! 
2. Clean the Brakes
The thrill of riding a motorcycle comes from accelerating, however, we all know that's equally important to be able to stop. That's why you must be diligent about cleaning the brakes on your motorcycle. You should check their brake pads every 6,000 to 9,000 miles. However, if you regularly over hills or otherwise rough terrain, you will likely need to clean them more frequently.  
When it's time to clean your bike's brakes, choose PJ1 Pro Brake Cleaner! 
3. Clean the Air Filter
The air filter in your motorcycle helps keep contaminants away from the engine. Depending on how often you ride your motorcycle and the environment in which you use it, your filter should be cleaned anywhere between every ride up to 10,000 miles. We recommend monitoring how quickly your air filter gets dirty so you can come up with a regular cleaning schedule. 
Be sure to have PJ1 Air Filter Cleaner on hand for when it's time to tackle this task! 
4. Lube the Motorcycle Chain
Motorcycle chains need proper tension for quiet, safe performance. On a motorcycle, we recommend lubing the bike chain every 500-1,000 miles, depending on how often and over what terrain you ride.  
No matter how often you lube your bike chain, we recommend having PJ1 Black Label Chain Lube on hand! 
5. Shop PJ1 Powersports Products
Now that you know the top tips to make a motorcycle run smoothly, it's time to get to work! No matter what motorcycle maintenance item your bike is due for, you can find all the information you need to complete the job right here on our website. 
Browse our blog for helpful guides and how-tos, then select the PJ1 Product that's right for the job!