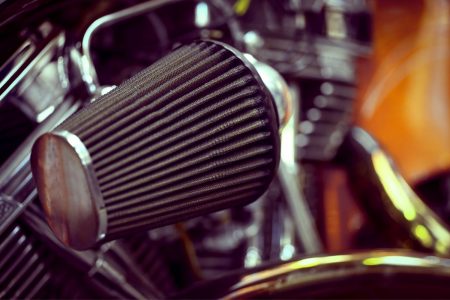 Any motorbike enthusiast knows the thrill of tossing up dirt as you ride! However, all that debris can clog up your bike's air filter. That's why we recommend a foam filter to run on performance engines in dusty environments. While fabric filters may have a few layers of fabric weave for the air to get through, foam offers a much more tortuous flow path for the air, which causes heavy particles to get stuck in the foam. Like a fabric air filter, a foam air filter uses foam filter oil to increase its ability to capture small particles. The benefit of a foam filter, if it is cared for properly, is great airflow along with proper filtration. Read on to learn more about how to clean a foam filter on a motorbike! 
When you're ready to clean your foam filter, check out our Air Filtration products. You can find the best air filter cleaners, oils, and care kits at PJ1 Powersports' online store! 
3 Steps to Clean Your Foam Filter
How Often to Clean Your Filter?
Any motorbike that gets regular use will need to be cleaned frequently. If you ride in the dirt, mud, or even gravel, we recommend cleaning your filter after every ride on the track or trail. However, if you keep your foam filter-charged vehicle on the road, you can go anywhere from 1,500-2,500 miles between cleanings, or once the filter gets visibly dirty. 
1. PJ1 Foam Filter Care Kit
The Filter Care Kit from PJ1 Powersports offers the best value in keeping your engine and air filter in like-new condition no matter where you ride. This two-part kit will allow you to clean the filter without destroying it and re-oil the filter to keep it from destroying your motor. 
2. PJ1 Foam Air Filter Cleaner
Say goodbye to the days of soaking your filter and hoping you remember to wash it and re-oil it before your next ride with PJ1 Air Filter Cleaner. Our formula quickly removes dirt, grease, and grime with a simple spray-on, wash-off process. It also eliminates soaking and rinsing dirty filters in gasoline and other solvents that can be dangerous to your motor! 
3. PJ1 Foam Air Filter Oil
Once your foam filter is nice and clean, PJ1 Foam Air Filter Oil will help you keep your engine running like new. If dust and debris enter your engine, they can score valves and seats as well as your cylinder wall, reducing compression and performance quickly. PJ1 Foam Air Filter Oil is extremely tacky, so once it's applied evenly to your filter, the sand and grit will be attracted to the oil where it is trapped and not allowed into your engine. It also is water-resistant which will keep your engine safe from getting hydro-locked. 
Shop All Filtration Needs With PJ1's Online Store
Now that you know how to clean a foam filter on a motorbike, it's time to get to work. You can purchase any of the products featured in this article directly from PJ1 Powersports' online store. Or, search your location to find a certified dealer in your area.  
No matter what your Powersports needs are, you can find products to help you complete any job with PJ1 Powersports!