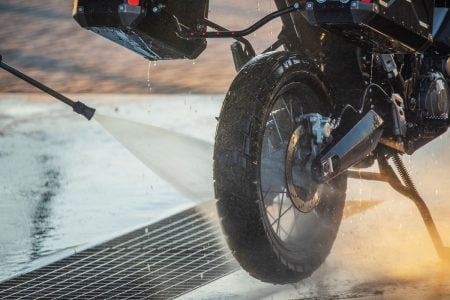 Every motorcyclist knows the frustration of keeping dirt grime off your bike. There's no eyesore quite like speckles of dirt and grime splattered across your metal surfaces. It's important to find a motorcycle cleaner that's easy to use and works to dissolve dirt and grime without leaving residue behind. Searching for the best spray & rinse motorcycle cleaner? Look no further than PJ1 Spray & Wash Degreaser. This bike cleaner works to remove dirt and road grime for a bike that looks brand new after each wash! 
Everything You Need to Know About the Best Spray & Rinse Motorcycle Cleaner
How It Works
PJ1 Spray & Wash Degreaser works to remove dirt and grime from your bike's metal parts and painted surfaces and is also safe to use on all mechanical parts. Even better, our spray-on, wash-off formula doesn't leave behind any residue.  
How-to apply PJ1 Spray & Wash Degreaser: 
Run your engine until it's warm, then shut it off.

Cover the air cleaner and 

ignition

.

 

Shake spray and wash cleaner can well.

 

Spray motorcycle spray wash on desired bike part(s).

 

Allow the solution to work for 10-15 minutes.

 

Rinse off with a strong stream of water. No need for a microfiber towel!

 
More PJ1 Cleaners
Need to clean a specific bike part? PJ1 Powersports offers a wide range of cleaners and degreasers to choose from. No matter what bike part needs to be cleaned, we have a product that's right for the job! 
Here are three other motorcycle cleaners to add to your stock of cleaning supplies: 
PJ1 Pro Contact Cleaner is designed to clean your bike's electrical 

components.

 
PJ1 Spray & Wash Degreaser and PJ1 Blue Label Chain Lube can be used to clean and lubricate your motorcycle chain.

 
PJ1 Air Filter Cleaner works to remove

 dirt, grease, and grime from your motorcycle's air filter.

 
Keep Your Bike Looking New 
With
 PJ1 Spray & Wash Degreaser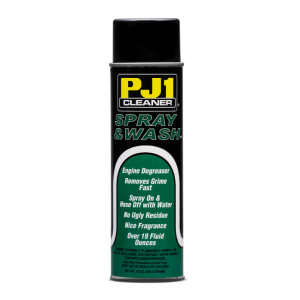 Now that you know about the best spray and rinse motorcycle cleaner, it's time to get to work. Begin by purchasing a 19-ounce bottle of PJ1 Spray & Wash Degreaser from our website. Or, find a dealer near you. Either way, we make it easy to get the Powersports products you need for nearly any job. Shop oils, cleaners & degreasers, lubricants, performance & maintenance, air filtration, and coatings! 
Looking for more tips and expert insight on your motorcycle or dirt bike job? Be sure to look at our blog. Here, we address common and abstract Powersports topics, so you can find the answer to any bike-related question!