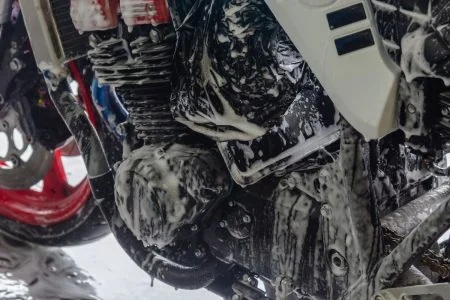 If you're a dedicated rider, then you know how important it is to maintain your motorcycle. Without proper maintenance, you can end up with a dirty, problematic bike. Keep up your bike's appearance and performance when you use a premium motorcycle engine degreaser. Luckily, we know the best motorcycle engine degreaser on the market and where to buy it! 
PJ1 Spray & Wash Degreaser is the No. 1 choice for dissolving grease, dirt, and soil on all your bike's mechanical components. Click the link below to shop for more motorcycle cleaning products! 
Your Guide to the Best Motorcycle Engine Degreaser on the Market
Skip the Spray Bottle
Skip the spray bottles and washrags! PJ1's Spray & Wash Degreaser is not only effective, but it's also easy to use.  
Here's how to use our spray and rinse motorcycle cleaner: 
Run your engine until it's warm, then shut it off.

 
Cover the air cleaner and ignition. 

 
Shake spray and wash cleaner can well. 

 
Spray motorcycle spray wash on desired bike part(s). 

 
Allow the solution to work for 10-15 minutes. 

 
Rinse off with a strong stream of water. No need for a microfiber towel!

 
Tips for Washing Your Motorcycle
Once you see for yourself how easy it is to use PJ1 Powersports products, you won't want to stop improving your bike's performance and/or appearance! While our engine degreaser is only intended for use on oily, metal surfaces, we offer a variety of cleaning products to choose from.  
Here are a few tips for cleaning a motorcycle: 
For painted surfaces or dirt bike plastics, anything that is safe for a car's painted finish will work for your bike.

 

For oily, metal surfaces, choose PJ1 Spray & Wash Degreaser to remove any oily residue or dirt.

 

On plastic, vinyl, leather, and rubber surfaces use 

PJ1 Renew & Protect

 to revitalize the material to keep it from fading or cracking.

 
Note: Make sure to minimize contact with other surfaces as you apply these cleaning products. For example, PJ1 Spray and Wash Degreaser, as well as Pro Brake Cleaner, will remove the wax from painted surfaces and may discolor plastic. Similarly, when rinsing with water, be sure you don't accidentally get any in the intake, exhaust, or fuel. It's best to avoid wetting electrical components even though they are designed to be water-resistant. 
Buy It Online at PJ1 Powersports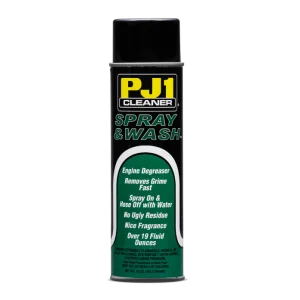 Ready to transform your bike back to like-new condition? Start by purchasing the best motorcycle engine degreaser at PJ1 Powersport's online store! 
Here, you can purchase PJ1 Spray & Wash Degreaser, as well as any of our top-of-the-line products like oils, cleaners & degreasers, lubricants, performance & maintenance, air filtration, and coatings. Best of all, you can have any of our products shipped right to your door!