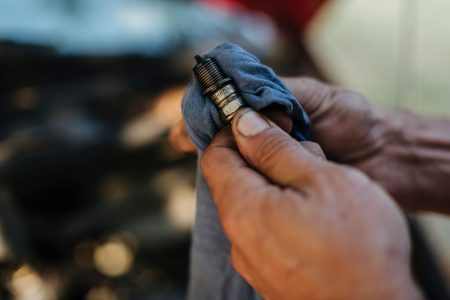 When it comes to your motorbike, it's important to know the ins and outs of cleaners. For example, washing your bike, cleaning the brakes, and cleaning the electrical components all require specific types of cleaning agents that can't substitute for one another. You can do some serious damage to your bike by mistakenly using the wrong cleaner for the job. Don't settle for anything less than the best Powersports contact cleaner when it comes to maintaining your bike's electrical components! 
Read on to learn more about PJ1 Pro Contact Cleaner, which is the best contact cleaner on the market. We'll walk you through the application, where to buy it, and more, so you're prepared for the job! 
Your Guide to the Best Powersports Contact Cleaner on the Market
PJ1 Pro Contact Cleaner
There are a couple of reasons why you need to use a special contact cleaner on your bike's electrical components. First, contact cleaners are specifically designed to remove carbon buildup. Carbon is prone to build up on your motorcycle because it's a natural byproduct of combustion in imperfect conditions. Naturally, where there's a motor, there's bound to be carbon buildup. Second, certain electrical components have protective coatings or insulations that need to be treated correctly as to not damage them. 
PJ1 Pro Contact Cleaner was developed with these principles in mind. Our contact cleaner removes carbon and other contaminants from spark plugs, ignition points, generator parts, and all other electrical components. PJ1 Professional Line of environmentally safe shop chemicals all contains non-chlorinated solvents that won't contaminate motor oils.  
How to Use Our Contact Cleaner
Now that you know why it's important to use contact cleaner on your bike's electrical components, we'll walk you through how to use it! 
Spray a generous amount of

 PJ1 Pro Contact Cleaner on desired parts. 

Electrical

 components only, please!

 

 

Wipe clean with a cloth. Microfiber works great for this type of job!

 

Optional: Repeat steps one and two.

 

Allow time for parts to air dry. This shouldn't take long, because our contact cleaner is 

quick drying

.

 

Discard the empty can in a trash can only. 

 
Shop a Full Selection of PJ1 Powersports Products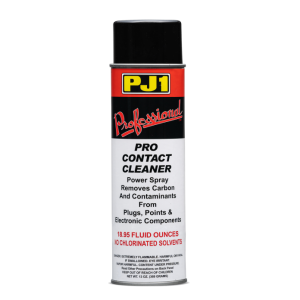 Cleaning your bike's cosmetic and mechanical parts are a few of the DIY motorcycle maintenance projects you can do in your own garage. Whether you're looking for a cleaner that removes grease, oil, or other contaminants, PJ1 Powersports has a product for you! We offer a handful of cleaners and degreasers for your bike's electrical components, carburetor and choke, brakes, engine, and more.  
Shop the PJ1 Online Store to shop the best Powersports contact cleaner as well as our other products. No matter the job, we have a product that's right for you. Best of all, you can purchase it online and have it delivered right to your door!