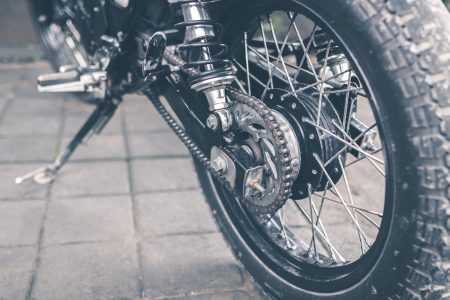 There are many instances in which it's beneficial to know the differences between shaft vs. chain vs. belt drive motorcycles. For expert and novice bikers alike, knowledge is power! The differences between these three drive types are efficiency, safety, comfort, and maintenance. Read on for more information about each of these components to decide which drive type is right for you!  
After you purchase your bike, keep it in tip-top shape with a few trusted PJ1 Products. Our online shop features cleaners and degreasers, lubricants, and more! 
4 Things to Consider About Shaft vs. Chain vs. Belt Drive
1. Efficiency
Efficiency is important for a few reasons.  First, inefficient things tend to wear out more quickly, but we'll get to that more in our maintenance section.  Secondly, efficiency leads to better gas mileage. If your goal is the get around without leaving a huge carbon footprint and to save a few bucks, the right drive can help! Lastly, efficiency is important if you're going for maximum power and speed. For maximum efficiency, a belt drive is the right way to go. Even if it's only marginally more efficient than a chain drive, it will take less energy to turn a properly fitted belt rated for the same power. Shaft drives come up last with their high weight and heavy gear oil. 
2. Safety
The rider's safety is always of the utmost importance. So, we want to make sure your bike isn't damaged due to broken components that can lead to a crash, or get you stuck out in the country or on the trail.  When it comes to safety, a shaft drive is the best bet. There's less chance of getting hurt by a belt or chain whizzing around and much less chance of breakage. While chains can handle much more power when they break, they can damage your bike or your leg. A broken belt will leave you stuck but not injured. 
3. Comfort
It's always important to go for a test ride! Chain drives are overwhelmingly used on the majority of bikes, so you may have to look outside the bikes to find a belt or shaft driven bike to ride. If you've been riding a chain-driven bike for some time, we highly recommend hopping on a shaft driven bike for comfort. You still get the crisp power transfer while having a much quieter and smoother ride. Belt drives are somewhere in-between, offering a quiet ride that's more efficient than a shaft–driven bike. 
4. Maintenance
Each drive system requires a different type of maintenance. Chain drives require the most maintenance, requiring both lubrication and tension adjustment on a regular basis. Belt drives require changing the belt at the manufacturer's required intervals, but shouldn't require any other maintenance. A shaft drive will run quietly and smoothly as long as you keep the gear oil changed at the recommended intervals.  We recommend using PJ1 Driveshaft Hypoid Gear Oil to keep your shaft–driven motorcycle running quietly and without problems for miles to come! 
Now that you know the benefits and drawbacks of shaft vs. chain vs. belt drive motorcycles, you can decide which best suits your needs!