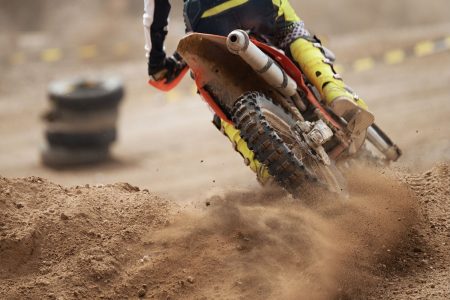 A dirt bike is designed to take you on off-road adventures! Whether you're racing competitively or trail riding for your adrenaline fix, your dirt bike's performance is the key to a successful ride. Want to know how to make your dirt bike run better? Read on for five tips for high performance on your dirt bike!   
When it comes to quality products for your dirt bike, shop PJ1 Products. Our online store offers a unique variety of specialty, high–performance products to care for and maintain your Powersports passion! 
5
Tips for How to Make Your Dirt Bike Run Better
1. Keep the Oil Changed
Routine oil changes are essential for the longevity of any motorbike. Your oil change can last anywhere from 2,000 to 10,000 miles, depending on the quality of oil you're using. Here's our guide to finding the best oil for your motorbike, like PJ1 Silverfire 4T Motorcycle Oil. A clean oil filter helps, too.  
2. Upgrade Your Exhaust Pipe
You may have noticed that many dirt bike exhaust pipes have a distinct bulge. This is known as an expansion chamber, which helps more air and fuel flow to the cylinder head during an intake stroke. The more horsepower your dirt bike gets during intake, the faster it runs. This aftermarket exhaust system only works for two-stroke engines, which most dirt bikes have.   
3. Clean
Your
Air 
Filter
Keeping your dirt bike's air filters clean is one of the top routine maintenance tips for motorcycles. The purpose of this type of filter is to remove any loose dirt and other particles before they reach the engine, which increases airflow. It's essential to have clean air and fuel flowing to the engine to increase your dirt bike's performance. We recommend PJ1 Fabric Filter Care Kit for the job! 
4. Lube Your Bike Chain
Your motorcycle chain should be just right for optimum performance and, let's face it, your sanity. If a chain is too tight, it will quickly stretch and wear the teeth down on the sprockets. If a chain is too loose, it will flop as your drive and could shear off teeth or break due to the slack. For dirt bikes, we recommend cleaning and lubricating your chain after every ride with PJ1 Black Label Chain Lube.  
5. Fill Up with Higher Octane Gasoline
It may seem like a no-brainer that fueling your bike with higher-octane gasoline can help your dirt bike's performance. While higher octane gas is more expensive, your dirt bike needs less of it than most other vehicles, making the extra cents worth it!  
Shop 
PJ1 Powersports for Your Dirt Bike Needs
Now that you know how to make your dirt bike run better, it's time to get to work! Motorbike aficionados know that when it comes to dirt bike maintenance, only the best will do. Whether you're looking for chain lube or oil, you can find products to help increase your dirt bike's performance at PJ1's online store! 
Shop PJ1 Products to get started on increasing your dirt bike's performance!