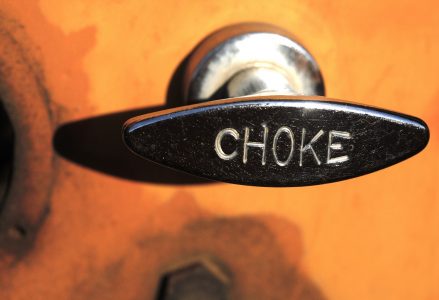 It's important to have a properly working choke on your vehicle.  Whether you drive a late model truck or hot rod, a dirt bike, or a pull start lawn mower, keeping your choke working properly is one the best ways to make sure your vehicle, or mower, is easy to start and isn't running too rich while it's warming up.
If your choke isn't working correctly because the choke cable is sticking the good news there is an easy solution.  Replacing the choke cable can be a really difficult job depending on the cable routing. A better solution is to just lubricate your sticking cable so the choke can operate easily and smoothly so you can set it in just the right position.  PJ1 Cable Lube is easy to use and can quickly get your choke working smoothly.  Besides lubricating the choke cable in its housing it will also clean the cable and inhibit corrosion so it will continue operating smoothly for the life of your machine.
Even with PJ1 Cable lube installed it is important to protect any cable runs on your car, bike or equipment.  The biggest enemies to properly functioning cable runs are water and dirt. Keeping your vehicle garaged is a great start but regularly inspecting the cable runs for cracks can help keep water and dirt out while you're on the road or trail.  If you haven't regularly lubricated your cable the friction of the cable moving in the sleeve can quickly wear through the cable housing. These cracks will allow dirt and water to get inside the cable run where it will allow the cable to rust quickly.  Once the cable has started to rust, no amount of lubrication to get it back to working like normal.
If PJ1 Cable Lube can't get things moving easily, you may need to replace the cable.  First things first, make sure you lubricate the new cable as soon as it's installed to keep it from getting back to this place.  If you can't find a direct replacement cable for your application you may be able to fit a generic cable.  First, remove your old cable so you can get the proper length.  Next, you'll need to find a new cable with the right ends as well as the right attachment points for the cable sleeve. 
Whether it's a choke cable, throttle cable, clutch cable, or any other cable-actuated equipment make sure to use PJ1 Cable Lube to keep things working easily!
Pictures provided by:
choke_cable.jpg – By BCFC – Licensed by Getty Images – Original Link