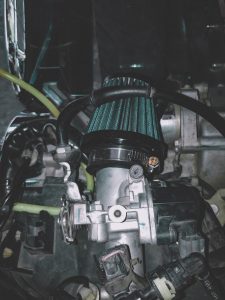 The short answer is yes if they are properly cared for.  Motorcycle pod filters are designed to do 1 thing and accomplish that a few different ways.  The goal is to allow air into your engine as easily as possible.  Most motorcycles come from the factory with airboxes that are designed to reduce intake noise and maximize filtering while reducing the cost of the filters.  This makes bikes quiet, inexpensive to produce, and boring.
If you're like us, you don't mind spending a few extra dollars for a little performance and you certainly don't mind a few more dBs from your motor!  So ditch the factor air cleaning system and help your bike breath!
To emphasize our point, try breathing for a few minutes through your straw.  Next stuff the far end of the straw with a napkin and try not to pass out.  This is what it's like for your engine to breathe through a factor airbox with a paper filter in it.  
Motorcycle pod filters do two things to help maximize flow.  They remove the factory air box (the straw in our exercise above) and replace the restrictive paper filter (the napkin) with a filter that still gets the job done but doesn't make it so difficult for your engine to pull air through it.  One of the ways pod filters accomplishes this is by using oiled filters rather than dry filters.  If you pick up an oiled motorcycle pod filter make sure to also pick up the PJ1 Foam Filter Care Kit.  Since your pod filters aren't protected by a restrictive air box they will pick all kinds or dust and dirt from the road.  This isn't a problem as long as you use our care kit to keep the filter in good shape.
Before you head to the drag strip to test out your new motorcycle pod filter, we want to set the record straight.  Pod filters are a great addition to your motorcycle or dirt bike but don't expect double the horsepower from this new filter.  Inefficient air filters and intake systems certainly rob your engine of power, but a performance filter usually gets you a 5% power increase at the max.  If you ride on the street you may see a slight bump in gas mileage as well!  However if you're a serious racer trying to shave that last 100th of a second off your lap, you can take all the extra power you can get!
Photo by Harley-Davidson on Unsplash